Be You! Happiness comes when you let yourself just be YOU.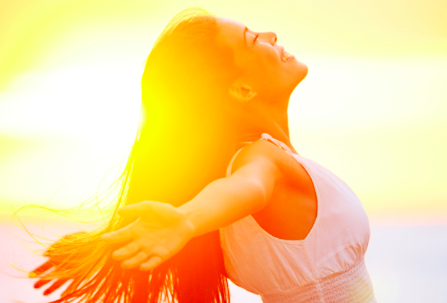 Introducing: The Spring 2019 Yoga Journey
***Early Bird Special! Sign up for the Spring Yoga Journey by Dec. 31 and get a free half hour Reiki Session! To take advantage of this, make your first payment or full payment on or before the 21st***
Stress. Not you
Insecurity. Not you
Drama. Not you
Trauma. Not you
Bad habits. Not you
Self sabotage. Not you
All those things listed above are not your Essential Self. They are impressions and habits you've picked up on life's journey. It's easy to get so weighed down and distracted by the wounds of life that you forget that pure, sweet part of you that lies beneath all the monkey business.

You essential Self is pure, unsullied, infinite and invincible. It treasures the gift of your body and is full of joy at being alive. When your relationship with your essential Self is strong, you are creative, you speak and act from the heart, and see all the ups and down of life as a sacred journey of self discovery and healing.
Yoga and meditation are all about connecting the finite part of you: you as a personality, with a specific body and life experience, with the infinite you: the part of you that is Divine and sacred and exists beyond time and space. This Fall we will focus on yoga and meditations that directly work on strengthening our everyday connection to this Essential Self.
I hope you can join me so that you can unwrap the gifts of living from your Essential Self: deep joy in being alive, meaningful work and relationships, and trust in the flow of creation that you are a part of.

Not sure if this class is right for you? I might be if the next few paragraphs speak to you:
It may have been a long, wandering path but now you're in a pretty good place. You have a vision of how wonderful your life could be. Maybe you have business or a service or a contribution you're ready to birth into the world. Or maybe you're ready to let go of old patterns and live each day with more joy and peace. But... This ideal vision of your life is taking a beating from real life.
You're tired and overwhelmed by the demands of daily life that just keep coming. You're not sure how to move forward while still providing food and shelter for yourself and those who rely on you. Despite your best intentions you're stuck on this hamster wheel of how things have always been. But you know that abandoning your dream and not being true to yourself is NOT an option. Because it feels like dying inside.
It doesn't have to be this way. I know, because I've been there.
Since 2004 I've been leaning pretty hard on Yoga and meditation to give me the inner strength and guidance I need to move me toward my goal: transitioning from a corporate job that bored me to tears to owning a business of my own that satisfies my soul. It was terrifying at times but it worked, and much better than I ever thought it would!
The primary purpose of yoga and meditation is to help you connect to your soul and to unlock the intuition (and deep satisfaction) that comes from being deeply connected to your own inner being. When this connection is strong your have a inner radar for what connections, opportunities and relationships will further your healing. In this class we will be using yoga exercises, technology based on the qualitative observations of yogis over 1000s of years, to increase the strength of nervous and glandular systems so that we can physically meet the demands of building a new life for ourselves.
Healing "Gong Baths" will be included in the yoga journey. At least once a month, class will feature an enhanced relaxation period with the healing power of a symphonic gong played live. The immersive sound waves of the gong wash away stress and tension from every cell of the body, that's why they call it a gong bath!
The Spring Yoga Journey is an excellent continuation and deepening of the work of the Fall Yoga Journey. It is also a way for experienced yogis from other traditions to add a more meditative and spiritual side to their yoga practice. New to yoga? Don't worry the yoga Yoga Journey is a welcoming and supportive place for enthusiastic beginners. As a group we'll journey together in to the world of yoga and meditation, using as our guide into the powerful themes of authenticity, self discovery, and healing.
The Spring Yoga Journey is a 4 month journey of weekly yoga classes culminating in a 40 day meditation practice.
In the course of the Spring Yoga Journey you will learn:

- The five foundational yoga exercises that build core strength and flexibility so that you can stay feeling young and limber and have the energy to meet your goals.
- The secrets of deep meditation, so that you can know yourself and feel greater calm and clarity about the present and the future.
- The healing technology of Kundalini yoga Kriyas. A Kriya is a prescribed set of yoga exercises for a specific purpose: i.e. build the aura, deeply relax, support lungs and circulation... You'll learn how to use the wisdom of Kriya to support your own personal healing.
- Three crisis kit meditations: simple breath exercises that you can use to calm yourself--any time, anywhere.
- The four strategies you need to form a solid daily practice that carries your forward long after class is over.
The Yoga Journey is more than your typical yoga class:
- 90 minute classes give time for yoga, AND to relax and meditate.
- Mats and props provided.
​- Tea and a little social time after each class. An uplifting Sangat (community) is a beautiful support to any kind of positive growth.
​- Small classes. Since it's 9 people or less in a class, you'll have individual attention from the instructor as well as the support of a group. You'll get individual tips on how to modify exercises to accommodate where your body is that week.
- Each session is its own closed, committed group. So you'll journey with a cadre of like minded folks all Spring. You'll have the safety--and accountability--of seeing the same faces every week.
- Photocopies or links to the meditations and Yoga Sets taught by request.
- A Gong Bath relaxation as part of the class at least once a month.
- Group participation in a 40 day meditation in starting in March. A forty day meditation is when you do the same meditation every day for forty days. If you haven't already started a daily practice, this is a chance to experience how the benefits of daily meditation can unfold in your life. Sometimes I've experienced profound shifts during a forty day meditations, other times the changes were subtle, but I always feel they move me forward. Forty day meditations are the cornerstone of my daily practice. I'm basically always in the middle of one!
- New Yogi Orientation Class: Mon. Jan. 7 at 6 pm. This bonus class is geared to students who are new to yoga, new Kundalini Yoga, or who just want to ease into the yoga journey. You'll get introduced to the basics and have plenty of time for questions.
- Free admission to the Full Moon Gong Bath: Friday, Apr. 19 - 6 pm. A 2 hour yoga workshop featuring a 20-30 gong bath and meditation.
The Nuts and Bolts:
- Basic Logistics and Scheduling -

The yoga journey includes:
- weekly 90 minute yoga classes, mats and props provided, tea and a little social time after.
One sessions is offered:
Mondays at 6 pm

- Class start the week of Jan. 14
- the last regularly scheduled weekly class April 29
- A New Yogi Orientation class is offered for students new to yoga, Kundalini yoga, or who just want to ease into the class: Mon. Jan. 7 at 6 pm
- Free admission to the monthly Saturday Drop-In Classes:
January 12
February 9
March 9
April 13
- Free admission to the Full Moon Gong Workshop - Friday, April 19 at 6 pm
Cost:
The Yoga Journey is $320.
You can pay in full or in two parts. $160 when you sign up and a second $160 by Feb. 11th. If this is a hardship for you, talk to me about an individual payment plan.
You can pay online here.
Early Bird offer:
If you apply and pay your down payment by Dec. 21st you get a free half hour Reiki Session.
Seva (Service) Opportunity: If you have more time than money right now, I am open to having one Seva student. He or she would get the Journey for half price if they are able to come before class on Monday each week and vacuum (Or even on Sunday evening), sweep or otherwise do light cleaning of the yoga area. It would be about a half hour of work.
Premium Offers:
Massage and energy work are a great addition to yoga and help release physical tension and open up energy blocks in the body.
Add four half hour massage or energy work sessions to your journey: $468 or two payments of $234
Add four hour massages to your journey: $588 or two payments of $294
Add four 90 min Massages to your journey: $708 or two payments of $354
Location:
Class is in downtown Lewiston, ME. Address and parking information given at sign up.
A Chance to try it out.
The Yoga Journey is a commitment, and many people are new to me and to Kundalini Yoga. I want every one of my yoga students to really want to be part of the Yoga Journey.
If you're on the fence about joining the Yoga Journey, you can attend the Jan. 7th Beginners Class, the Jan. 12th Saturday Drop In and come to the first Yoga Journey class before you decide for sure if you want to continue with the rest of the Journey. If you drop the class at this point you'll get all but a $30 deposit back.
Signing up:
Since the yoga journey is a committed, small group class with a theme of letting your true self shine, I'm asking for an application before new students register. This is just an opportunity for me to ask a few questions to get to know you better, and to get a sense of what you'd like to get out of the class. I'll keep your answers private of course, but I'll use them to get a sense of the class and tailor the curriculum to the needs and interests of the students.
To apply please call me at 713-0638 or email me to ask for an application. Until I can figure out how to load an email form here, I'm afraid you'll have to go to my Contact Page.
FAQS:
But it's Winter! It's so hard to leave the house when it's cold and dark so early. Plus I'm not keen on driving in the snow...
I hear you! It is absolutely true that getting to class is the hardest part of doing yoga. Especially during winter in Maine. But the question is: how will you feel after? Many times as student, I drug myself to class REALLY not wanting to go, all cranky and frazzled from work and the commute, but after class I felt like a different person. My mood was completely changed, and I felt a nice combination of relaxed and energized. I almost never regretted coming to class. I noticed the days I felt the worse, the ones where I most didn't want to come were they days I most needed the stress relieving effects of yoga.
As far as snow goes, built into the class are two snow days. If it is actively accumulating or if we're digging out from a big storm, class will be canceled (I'll let you know by 2 pm that afternoon). If we have to cancel more than twice we'll schedule a make up class. If you're a more tentative winter driver and you don't make it to class on one of those "iffy" days, no worries, I'll understand. Know that you'll still get a lot out of the classes you CAN attend. If you ask I'll also provide copies or links to the yoga set and meditation we did on the class you missed.
Can I physically do this?
It will probably comfort you to know that some of my happiest and most enthusiastic students are 60+, and some of them can't sit cross legged on the floor!
Here's some basic guidelines: if you can go up and down stairs, get in and out of a car, and get down onto the floor and up again by yourself (even if you feel TOTALLY ungraceful while doing this), you can certainly do Kundalini yoga.
Even though Kundalini Yoga is designed to physically challenge everyone, it is weirdly forgiving. I promise that you don't have to be pretzel-bendy or have the balance of a ninja to get a LOT of benefit.
The hard Kundalini Yoga exercises tend to ask you to do something pretty simple: like lift your arm up to 60 degrees or lift your leg 6 inches off the floor, but then asks you to keep doing this for 2 or 3 minutes. Wow! Now something really simple is really challenging!
So, what happens if you can't keep your arm or leg up for that long? You put it down. No wrathful bolt of lightning strikes you. You just rest for a few seconds and get back at it if you can. As long as you're authentically engage in doing the posture the best you can, you will get the benefit and build your body up from where you are.
Why should I take this class if I can practice online at home?
Online classes are great if you don't have a class in your area or if you can't find a class that fits your schedule, but they really don't replace and in-person class. There are 4 elements of Kundalini yoga: mind, body, spirit and group energy. When you practice as part of a group you are held and supported by the group energy. In addition to the social benefits of a group class, when you meditate as part of a group it is easier to go deeply and stay focused. Trust me, it's a thing!
What do I wear?
Comfortable clothes that let you move freely: i.e. sitting on the floor, waving your arms around, lifting your legs up, etc.
What if I can't sit still, or I've been too ADD to meditate successfully before?
I've found the pace of Kundalini yoga to be well suited to folks who are a little restless, and have had many ADD students say it helps them to focus. If you've had trouble meditating, know there are TONS of different kinds of meditations, and that Kundalini Yoga meditations tend to be easier to stay focused on. I go into a lot more depth about that in this blog: "Help! I'm too ADD to meditate!"
This sounds great, but I'm really not sure I can do this…
Some people are really nervous to try yoga for the first time (or again after a negative experience). Or they might have a physical limitation that they worry takes yoga off the table for them. I understand. If you need a little more support, I'd like to suggest taking a few 1 hour individual yoga lessons with me. Individual lessons are $60. You'll get learn without feeling self conscious about having other people there, and I can give you individually tailored modifications to all the basic kundalini yoga exercises so you can step into group classes with confidence. If you'd feel more comfortable talking lessons with a friend. I'll see both of you at the rate of $80 a class.
What if I decide the class is not for me?
You will get a full refund minus $30 if you decide to drop the class before Jan. 15. The Yoga Journey is a commitment, and I want each student to really lean into the structure of the class the community of fellow students. You attendance is very important to you, your classmates, and to the overall energy of the class. If you're new to Kundalini Yoga, or to me, I strongly suggest you attend the Jan. 7th New Yogi Orientation and/or the Jan. 12th monthly drop in class. Listen deeply to your heart and decide if the class, and the timing, is right for you. Rest assured, there will be other Yoga Journeys.