Yup! That's right I sell cloth menstrual pads.
I found Party in My Pants Pads online in the Fall of 2012 and I was impressed by their comfort (soft breathable cotton), functionality (thin, absorbent, no leaks), and beauty (colorful, fun fabric patterns).
Wouldn't you rather have something as happy as these pads to use every cycle?: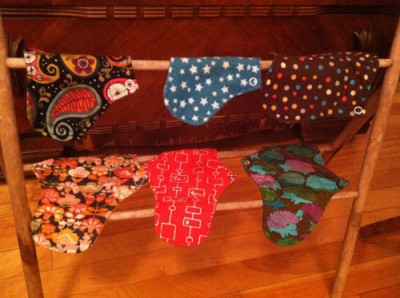 I keep a stock of these for sale at my massage therapy office in Lewiston, Maine. You also might have seen me around town at vendor fairs with a table full of these (along side my massage chair of course...).
So if you're local, just give me a call and we can set up a time for you to come by and talk cloth pads. I can help point you in the direction of which sizes to try first, plus (best part!) you can pick the patterns you like best.
The gals at Party in My Pants also have a Cloth Pad Curious offer, so you can try a free liner for the cost of shipping. I highly recommend this if you're intrigued by this cloth pad thing... but a little scared too!
If you're not local or want to take advantage of the VERY huge pattern selection on the Party in My Pants website, please use my referral code "sarag" to let the PIMPs ladies know I sent you. It will also make you eligible for drawings for free pads, just for referees like you.
More about the Pads:
Party in My Pants are made of 100% cotton upper and absorbent core (also available with Organic cotton for $2 more per pad), with a leak proof nylon shield on the back. No, the nylon shield is not PUL, it is something that is breathable. They fasten around the bottom of the underwear with snaps. They are machine washable and dryable and last 65 washings, or 5 yrs. They are totally awesome! I'm not the only nut who thinks so, check out what other women are saying.
These pads a great option for stress incontinence and for postpartum moms too. The Queen is the highest absorbency pad and is a great option for those first few days after birth. If you're nursing I sell nursing pads as well (see the bottom of the page).
If you are curious about the nitty-gritty of going cloth check out the FAQ page on the Party in My Pants website. Trust me this will answer every question, even the embarrassing ones.
The pads come in Liners (pictured left to right):
Mini Liner: 2"x7"
Demi Liner: 3"x7"
Luxe Liner: 3"x9"
The absorbency is the same for all liners. They are for light absorbency needs.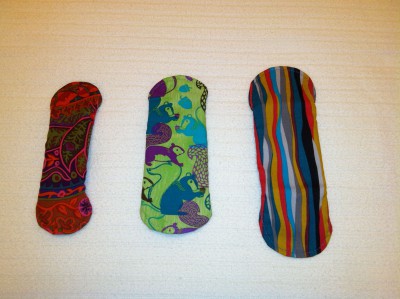 Liners are $10, $12 organic.
Pads:
Small: 2"x7"
Medium: 2.5"x10"
Large: 3"x10.5"
Overnight: 3"x12"
Shown from left to right, absorbency increases with size. The large and the overnight easy meet or exceed a large disposable maxi pad's absorbency.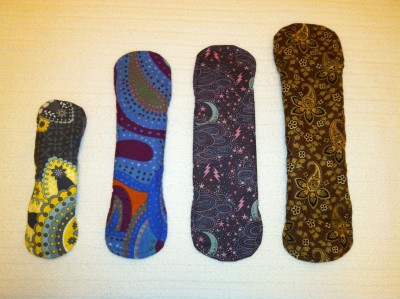 Small, Medium and Large Pads are $13, $15 organic.
Overnight Pad is $14, $16 organic.
Max Absorbency Trio:
Super Pad: 3"x10.5" - contains fleece inner layer, double the absorbency of a Large.
Overnight: 3"x12"
Queen: 3.5" wide at center (flaring to 5.5" wide at the back for better coverage lying down) x15.5" - Perfect for Postpartum Moms!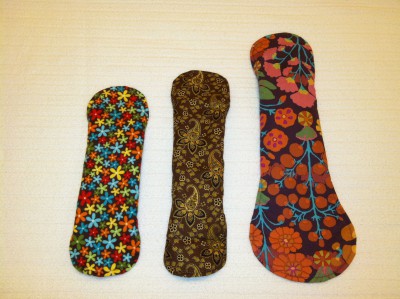 Super Pads are $15, Overnight Pads are $14 - add $2 for organic.
Queen is $19, or $21 organic.
Extras:
Honeysuckles - nursing pads with a 100% organic cotton and hemp fleece absorbent layer, and nylon leak proof shield for extra security. They have a nice thin profile as well.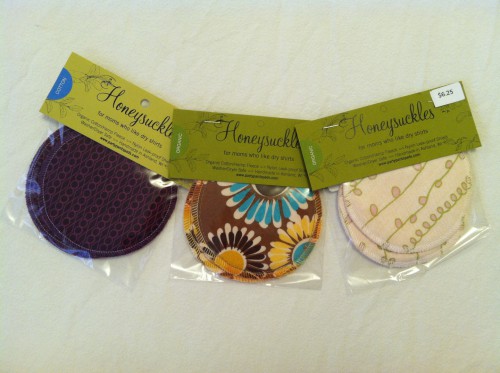 Honeysuckles are $6

Totes
Pixie Pouch - a little waterproof pouch to carry a few pads with you when you are on the go. (Will not fit Queen pad). Also a great little coin purse. 4.5" wide, 3" high, 1.5" deep
Day Tripper Tote - Larger waterproof pouch that holds 6-12 pads depending on their size. Also a great toiletries or makeup bag. The day tripper tote is also perfect for a money pouch for the fashion conscious small business woman. 9" wide, 5.5" high, 2" deep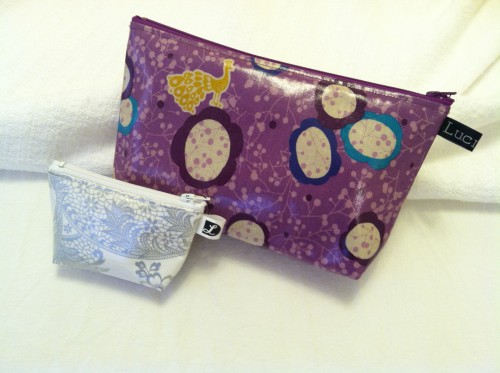 Pixie Pouches are $7
Day Tripper Totes are $13
You don't have to be a massage client to buy a pad! Just call me at 207.713.0638 and we'll set up a time for you to come over and check out all the awesome patterns I have in stock.