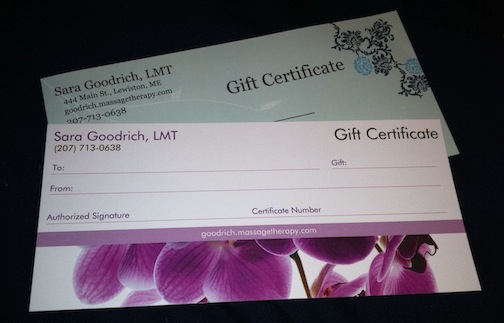 Gift Certificates! A great way to help loved ones relax and feel better.
Gift certificates can be bought online and sent to you directly or to the recipient.

Do you know someone who might benefit from the stress reducing and pain relieving effects of massage? I've seen massage help a lot of people live healthier and more comfortable lives. If someone close to you is in pain, it's worth a try to see if massage can help. More info here on how massage can be used for pain relief.
Gift certificates can be purchased by phone or online at my Square Market and mailed to you. If you use the Square Market, please let me know if you want a blue or purple gift certificate in the comments. Also if you want me to send it directly to the recipient give me their name and address and how you would like your name to appear in the "from" line in the comments as well. You may also call (207) 713-0638 to purchase your gift certificate.

If your looking for other gifts, I'm now selling Grandpa's Garden products. I've got added some cute animal neck warmers, plus wonderful, practical Spa Body Shawls and Spa Perfect Wraps ($47 and $51)! I now have the Bunny Wrap, Puppy Hugs and Kitty Kuddles (all $31). These neck wraps are delightful and useful gifts. The Grandpa's Garden products are available for pickup from my Lewiston, ME office.