Congratulations on your Pregnancy!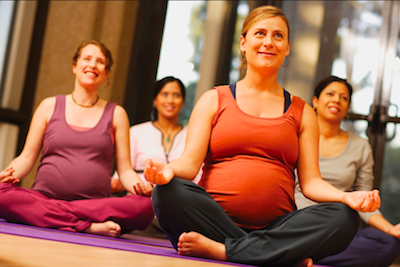 Fall Lunchtime Series: Nov. 1 to Nov. 29 - Tuesdays at noon for one hour.
If you want your pregnancy to be a time of community, healing and conscious transformation, this is the class for you!
The focus of Yoga for Conscious Pregnancy will be on gentle range of movement and strengthening of the lower body and on learning to meditate to increase calm, confidence and intuition.
The yogis teach that pregnancy is a powerful time of spiritual meaning, when a woman is literally manifesting the Divine quality of creation through her body. Pregnancy is often full of joy and anticipation. But it can also be a time when unrealistic and judgmental expectations about femininity and motherhood weigh you down. Or when painful dynamics and disappointments from childhood reemerge.
In this class such challenges will be welcomed and seen as opportunities for healing and to surrender to the wisdom and intuition of your soul.
Pregnancy yoga allows you get to know and connect to your changing body. But there is more to it than that: The Yogis teach that after the 120th day of pregnancy the soul of the child is embodied in the fetus. From this time until the umbilical cord is cut the subconscious mind of the child is formed. The mother's mental state at this time is very important. She should feel safe, loved and supported. If it is a chaotic time for you right now, it is especially important that you find and make time for spaces of safety and support.
This conscious care of your mind and spirit is part of a long lasting investment in you and your child. Pregnancy is a time that you can give a profound gift to your baby: when a mother meditates after her 120th day of pregnancy, her child meditates too and receives all the benefits of meditation. Through meditation you can help release the karmas your child's soul is carrying from his or her past life. This special period is literally the ONLY time you can meditate for someone else. Any healing and break-throughs you experience during this time automatically go to your baby because energetically you are one. A 5-10 minute daily meditation practice will be supported and gently encouraged for all class participants.
And of course the meditation techniques you learn now will give you the tools center yourself as you step into the intensity of motherhood. When you're grounded and connected to your spirit, you can parent with heart, strength, and intuition.
Yoga for Conscious Pregnancy features:
- yoga exercises that open and strengthen the lower body and keep the spine limber.
- meditations for accessing your own inner sense of well being and intuition of how to move forward.
- ample time to relax and be in your body each class
- the yogic teachings around pregnancy, birth and postpartum care.
- space for individual healing requests. If there is something that needs to heal or move for you, let me know we'll do a meditation for that.
- 60 minute classes with a little social time after
- a chance to be part of a community of 3-8 pregnant women who, like you, want a conscious pregnancy, radiant birth, and gentle infancy for their child.
What if I'm not pregnant?
If you want to attend class to support a pregnant partner or friend, or if you want to take this class to prepare for a future pregnancy or to heal around issues of motherhood and creativity, you are welcome to! However, I offer this only if they're is room in the class and you wont taking the place of a pregnant woman who's interested in the class. Pregnancy is brief--an eye blink in a woman's life time!--and priority will be given to women in this powerful life stage.
PRACTICAL DETAILS:
5 weekly classes of 60 min each, classes tailored to student healing goals
Location: in person in my studio in Auburn, ME or on Zoom!
Price: $125**
**If this is unaffordable for you, please talk to me. I offer a sliding scale for students who need it. Pregnancy is too precious a time to do yoga and meditate, cost should not get in the way!
Please call me at 713-0638 or email me for more information.